"You did that trail with Eli, you're crazy." My east-coast friends say that to me way too often. I laugh a little because out here in Colorado the trails are packed with families and all of their children. I'm not saying it's easy, but over the years I have learned a few things about hiking with babies/toddlers and our adventures are finally starting to flow.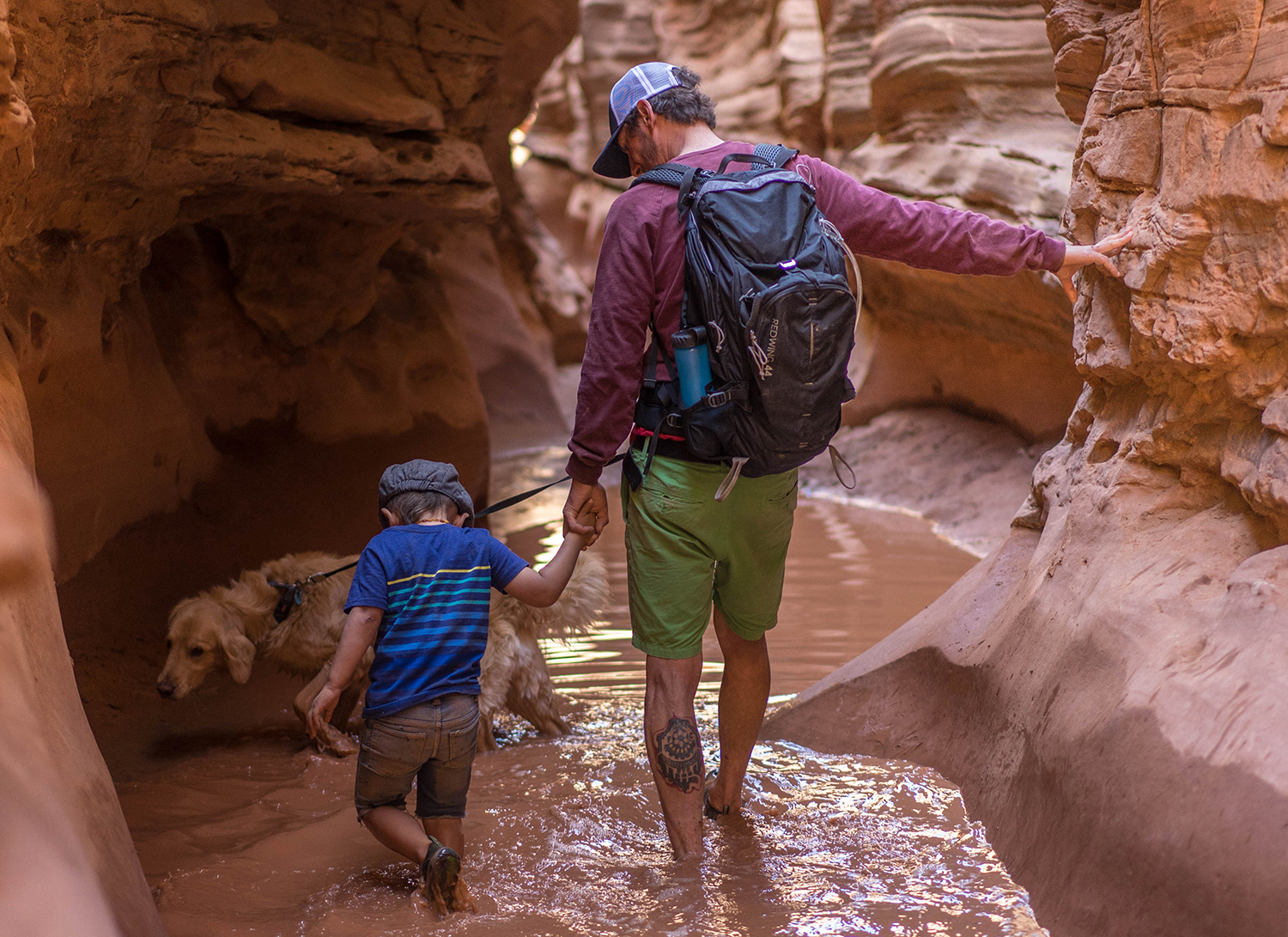 My son Eli hikes as if he was one of our friends. He easily breezes through miles without a single complaint. Don't let that fool you, we still have our "hard days" as he is a toddler. If you worry about having those hard days on the trail and how you might handle those hard days, we are here to share a few tips:
Tip One: Slow Down!
Eli, our son is almost four years old, he loves being outside and adores exploring the trails. For him it's a whole different adventure than it is for us. He is discovering the world from a different perspective. Every foot, heck every inch, of the trail is filled with excitement for him. Here is an example of a few minutes...or was it seconds?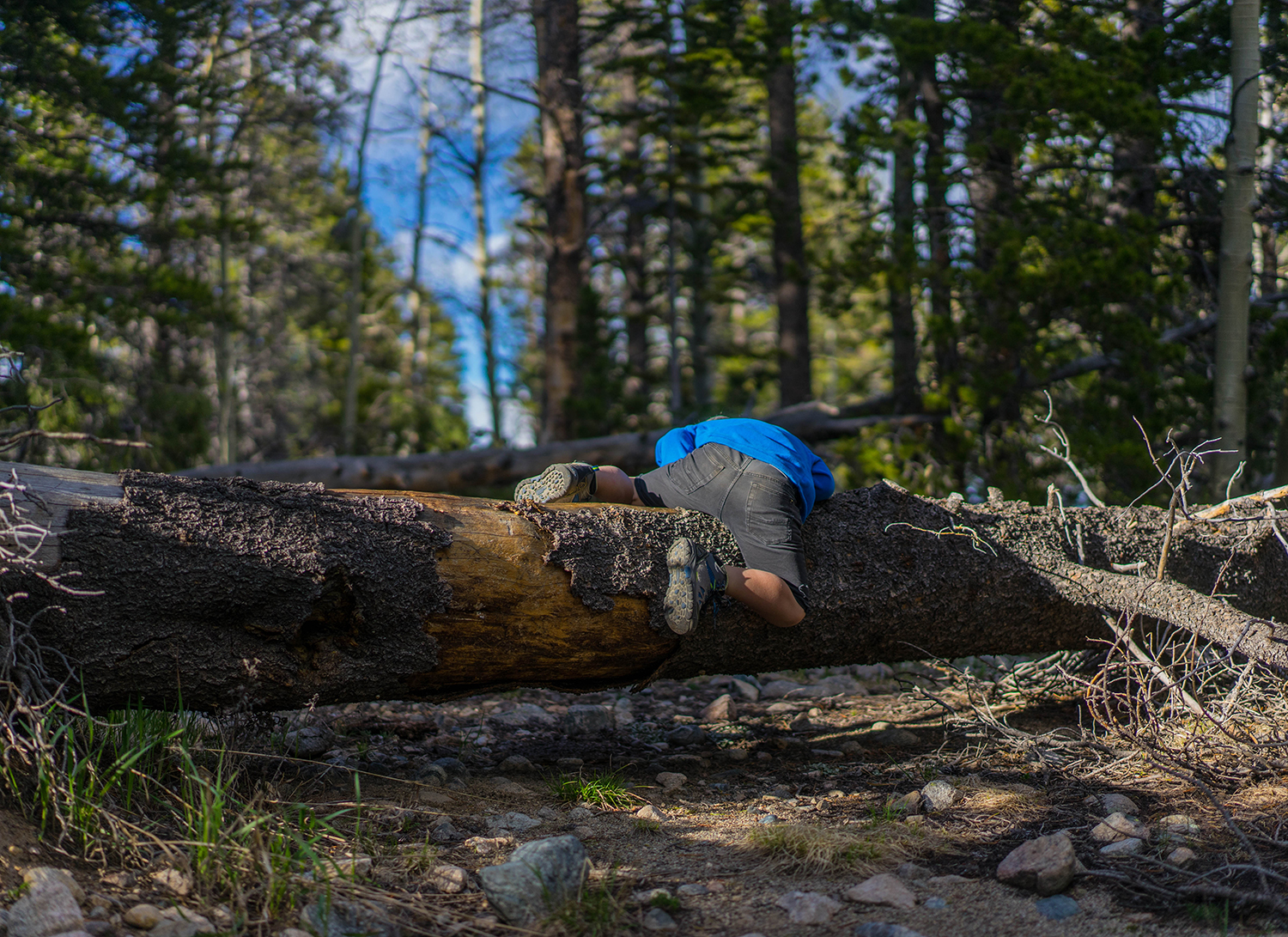 "Look Mama it's an ant, my friend anty I found him again! Flowers Mama, so pretty, come smell them. Ahh so good! I'm going to climb this boulder. Look Tata, I'm so high! A wish Mama and Tata! A wish for you, a wish for me, and a wish for Willie! A hole Mama! What lives in here?! Let's check! Mama take a picture of this view it's beautiful!"
So to say our adventures go slower, would be an understatement. It's true that we could rush him a long, but we have discovered that if you let him enjoy what he loves about our adventures and go at his pace while taking an interest in what catches his eyes he will fall in love with nature. Our trail travels are met with a lot less whining and a lot more excitement and laughter! After all, it's the journey that makes the adventure all that more fun.
Tip Two: Be Flexible!
So we spent a week planning for a mini road trip from Colorado to New Mexico. It was about an eight hour drive straight to New Mexico, so we thought, let's pick some places to stop along the way to break up our drive.
Pueblo Lake State Park - Play in the water and maybe a quick Kayak ride
Zapata Falls - Stretch out our legs and hike a bit
The Sand Dunes - You cannot drive right passed them without stopping.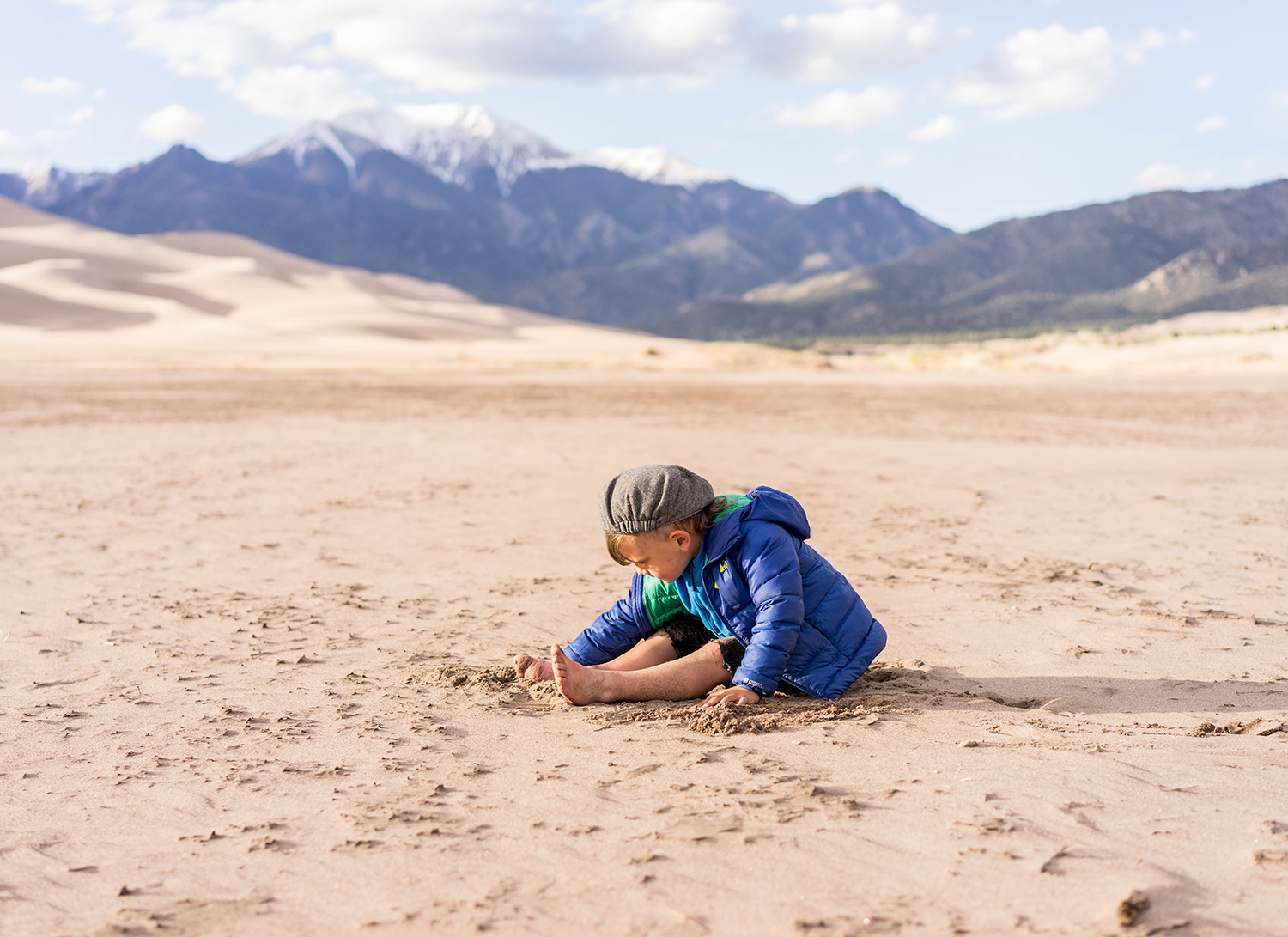 First two stops where quick and easy. When we arrived at the Sand Dunes Eli couldn't wait to get out of the car, "Water Mama, water! I hear water! Can I play in the water?" As we approached the "water", he saw that they were huge mountains of sand, and went running right for them. He ran up every single one just to roll right down making sand angels and splashed in the "water", only to repeat it all over again. He didn't want to leave, he just kept yelling, "I love this place so much!" We decided he could have this one and the hot springs and alpine lake in New Mexico could wait.
We asked him, "Do you want to stay here or go explore a new place?" His answer was immediate. "Stay here! This is my most favorite place ever!!" Our road trip ended at the Sand Dunes, and we had no complaints.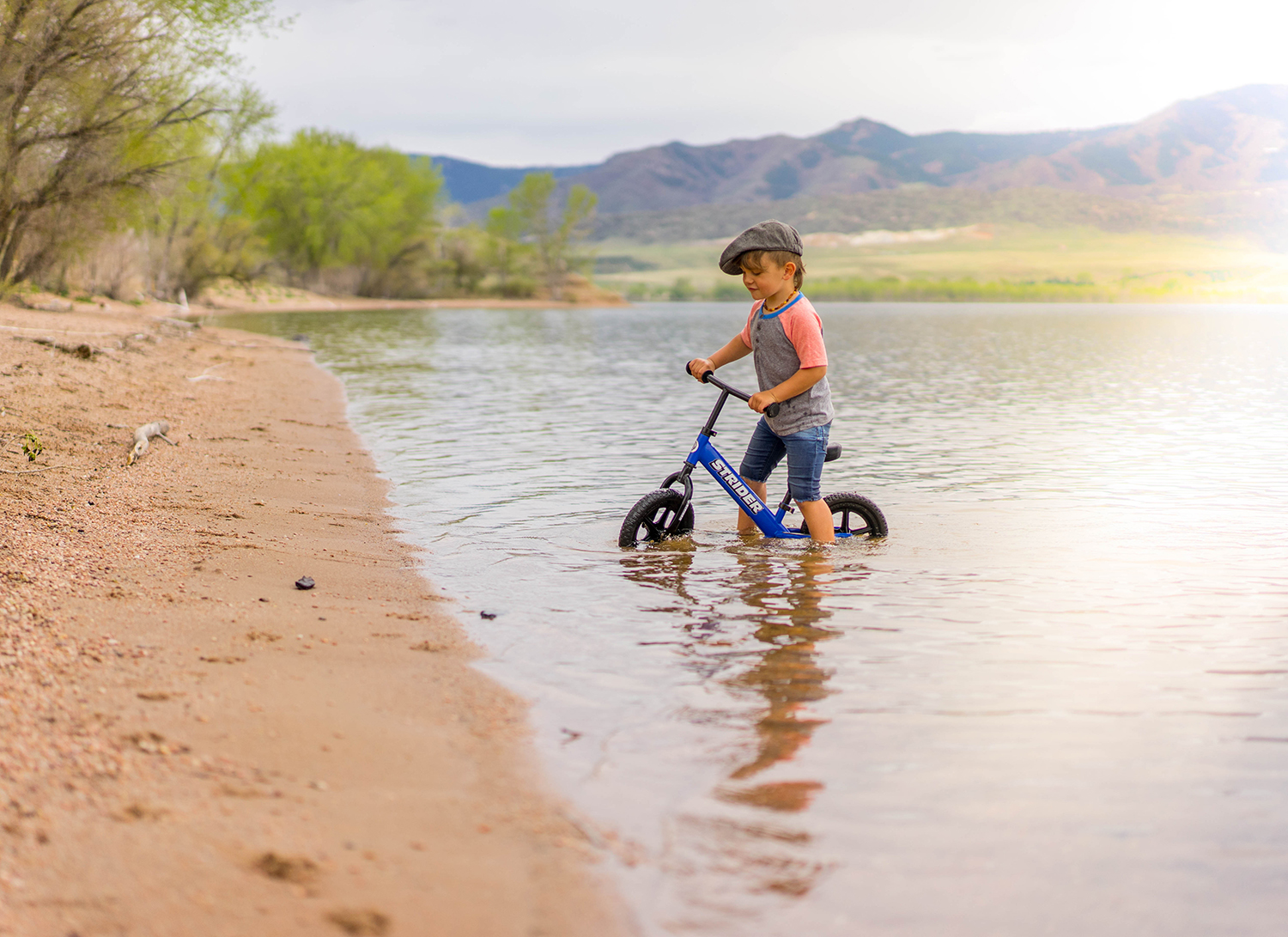 Tip Three: Include Them In the Planning!
Eli loves to feel like he's a part of everything we are doing. Even when I sit to edit work photos he grabs his laptop and sits right next to me, pretending he is hard at work editing his own photos. So we decided to make him a bigger part of our adventure planning.
We take him to the store to pick out his trail snacks and camp meals which he loves. When we are out on the trail and he says, "No, I don't want that," we quickly remind him that he picked it out and he instantly changes his attitude.
When we are trying to decide what trails to do for the weekend or where to camp, we pull out the map, show Eli where each trail and spot is located, and we even pull up some pictures of each trail and spot so he can see it. Then we ask him for his vote, which usually wins (wink).
When we decide for him he doesn't seem quite as excited as when we include him in the whole planning process!
Tip Four: Mix it Up!
Eli loves hiking and camping, but he also loves biking, kayaking, playing in the water, and even soccer. If we hike every week or weekend he gets a little sluggish and loses interest in hiking, but if we mix it up he starts to miss hiking, and asks, "When are we going on our next hike?". If we do a long hike on Sunday morning, we try to fill the evening with some other activity. If we spend a whole day hiking from sun up 'til sun down, we let him pick the next day's activities. Usually he chooses a bike ride, lake play, and soccer. When it's time for our next hike he's ready to go and will go for miles.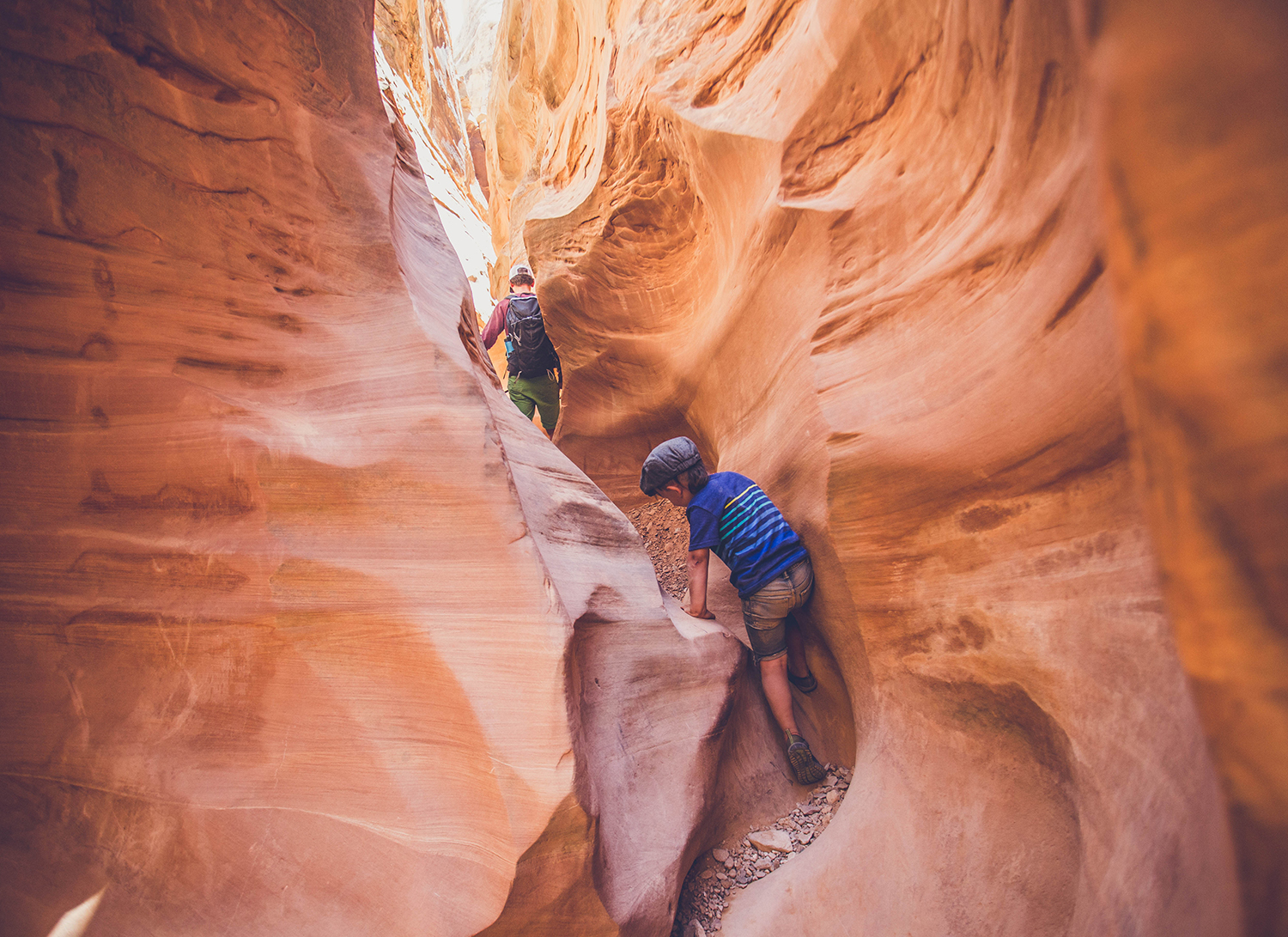 Tip Five: Figure Out What They Like!
Eli loves trails with obstacles, such as boulders to climb on or over, fallen trees to cross over, bridges, water...definitely water. If we pick a trail that includes these things he will go for miles and miles without a complaint. If he gets stuck at a spot for a little longer than we would like we encourage him by saying something like "Okay E, let's go check out the next waterfall," or "Let's see if we can find an even bigger boulder to climb." This fills him with energy and he is off running ahead of us to find the next mini adventure to tackle on the trail. If we do a flat path trail, he usually tires quicker and loses interest much faster. Remember to think about what they like when picking a trail.
While these tips are not a perfect for every child they have helped us enjoy the trails a little more! I'd love to hear additional thoughts and things you do or use to keep your kids motivated on the trails!!!
---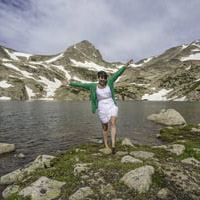 Get to Know Lynzy:
Lynzy is an international travel that has settled in Colorado...or settled in a streamliner trailer that is currently in Colorado. Along with her husband, son, and pup they travel the United States looking ofr outdoor adventure. Lynzy documents their journies on her on her blog Adventuresoffour.com. Follow her on her Instagram account @adventuresoffour