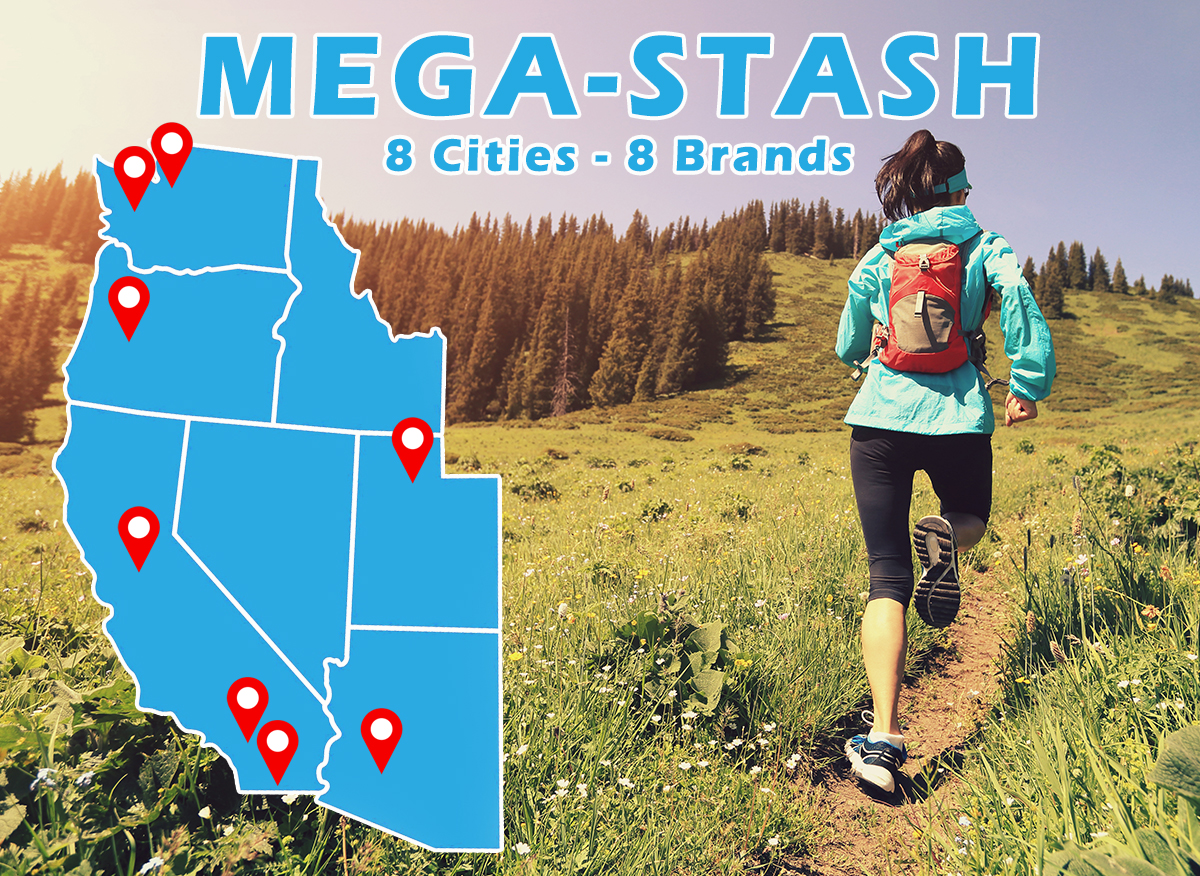 Are you ready for the Mega-Stash event? HydroBlu has teamed up with 7 other awesome companies to provide you the ultimate gear stash event. FREE gear will be stashed in eight different cities across the West Coast and the first one to find it take the spoils.
HydroBlu as partnered with Madera Outdoors , PR Bar, Roam Products, Sweetwood Smokehouse Jerky, LTD. Optics, Small Town Big Family, and 3V Gear each providing gear, snack, and merch for your scavenging hunt pleasure. Learn more about each brand below.
Every Saturday HydroBlu's Instagram will announce the location to find the gear stash and the first one to the top of the mountain or end of the trial will get the treasure that awaits them. Check out the cities and dates of our Mega-Stash Event.
Saturday, September 23rd
San Diego, California
Seattle, Washington
Saturday, September 30th
Riverside, California
Salt Lake City, Utah
Saturday, October 7th
Phoenix, Arizona
Sacramento, California
Saturday, October 14th
Tacoma, Washington
Eugene, Oregon
For updates and stash information visit HydroBlu.com or any HydroBlu social media. Get ready to get outside and enjoy nature while you search for a Mega-Stash near you.
Madera Outdoors
Based in Jackson Hole, Wyoming Madera Outdoors designs incredible strong and unique hammocks while planting two trees for every hammock purchased. Follow them at @madera_outdoors.
PR Bar
When you train for your next triathlon or weekend hike PR Bar will provide you with all the energy you need as a premier energy bar. All their bars are all natural and gluten -free for Sustainable Energy. Follow them at @myprbars.
Roam Products
Keeping it simple is the ethos behind Roam Products as they create beautiful simple wallets and silicone rings that will inspire you to roam. Follow the at @roamproducts
Sweetwood Smokehouse
Founded in the high-altitude of Steamboat Springs Colorado Sweetwood Smokehouse cooks some of the best-smoked meats in the West. All the meats are smoked with homegrown American Hickory Wood. Follow them at @sweetwoodjerky
LTD. Optics
During all seasons LTD. Optics is committed to your eyeballs. Whether it is their transitional goggles or summertime sunglasses your eyes have nothing to fear. Follow them at @ltdoptics
3V Gear
Be prepared to conquer your adventure with 3V Gear. Their motto, "Veni Vidi Vici" will empower you to come, see, and conquer too. Follow them at @3vgear
Small Town Big Family
Regardless of where you are from, we can all relate to small-town life of a close community that is more like a family. Based in Elkhart Lake, Wisconsin Small Town Big Family reminds us of our own small town and the strength of community. Follow them at @smalltownbigfamily